Adobe Systems created the portable documents to prevent the document format shuffling. Furthermore, password protection was a big step in preventing online document theft. However, these days password protection is not enough because many password crackers are available in the market. These password crackers access the back-end information of a PDF and reveal the password within minutes.


How can You Protect Your PDF File?


Only complete encryption of all the elements inside a PDF can ensure the complete security of your data. The encryption process works as a seal, and no password is involved in it. That is why the traditional password crackers fail to give access to the encrypted PDF files. However, finding a reliable PDF security tool with the advanced encryption method is quite challenging.

If you are looking for a trustworthy PDF security tool, try our highly advanced PDF Anti-Copy application.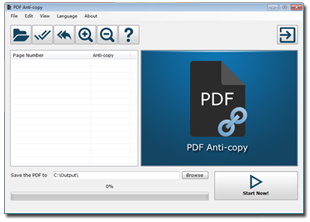 PDF Anti-Copy Windows App


PDF Anti-Copy app is a premium tool that protects your data in a PDF. The built-in password protection of PDF has loopholes, and a password cannot secure your data completely. To ensure high security, the PDF Anti-Copy desktop app encrypts all the PDF file elements and prevents data theft. The best thing about the PDF Anti-Copy is that it does not mess up with your PDF's original formatting during the encryption. By using the PDF Anti-Copy tool, your documents are protected against the following security threats.

- Prevention of PDF text from being copied

- Restriction of PDF conversion to MS Word and TXT files

- An anti printing lock on the encrypted PDFs

Despite the security measures mentioned above, your PDF can be shared with others. Still, no-one can print and edit it.


Top Features of PDF Anti-Copy App


PDF Anti-Copy app is not a password protection provider; instead, it uses highly advanced technology to encrypt your PDFs. Let us check out the detailed features of the PDF Anti-Copy app.


1. Wide Range of Security Options


PDF Anti-Copy app is designed to meet the evolving threats to data security. Data thieves try their best to convert a PDF document into an editable version, which the PDF Anti-Copy tool restricts successfully. Secondly, printing restriction is a great feature that helps prevent the printing of sensitive information. These two features play a key role in securing your PDFs.


2. Selective PDF Page Protection


PDF Anti-Copy tool is a great tool if you want to secure the entire PDF or PDF data fragments. You can select the important pages of your PDF and encrypt them for full protection. The encrypted pages would be protected against the copy of data, unsolicited printing, and conversion of secured pages into editable versions. This feature is indeed great for the authors and researchers who want to protect their work.


3. Keeps the Original PDF Layout


Most of the PDF theft protection tools change the formatting of the PDF. For instance, you want to protect pages 8 and 14 of your PDF. The substandard PDF tool may throw both the pages at the end of the PDF. However, the PDF Anti-Copy app encrypts all the PDF details without changing anything in the formatting. No one can guess that PDF Anti-Copy encryption of a PDF unless a thief tries to steal your data and fails.


4. User-Friendly Interface


PDF Anti-Copy for Windows is a premium tool, yet it features a straightforward interface for its users. Put your file in PDF Anti-Copy and secure it the way you want. Long passwords and long procedures are not a part of the PDF Anti-Copy security system. Hard to believe? Try the PDF Anti-Copy app and experience our high-quality data encryption service.


PDF Anti-Copy Quick Instruction Guide


1. Download the PDF Anti-Copy tool from pdfanticopy.com and install it on your PC. In case of the portable version, attach your storage device to your PC.

2. Open your PDF in the PDF Anti-Copy app by using the "Open PDF" button.

3. Select the number of pages you want to protect. You can check the boxes of desired pages. If you want to select all pages, click on the "All Pages" button next to the "Open PDF" button.

4. Now, click on the "Start Now" button to initiate the encryption process. Once the encryption finishes, you can share your secured PDF with others without being afraid of data theft.





Download PDF Anti-Copy V2 (14 MB - Installer/EXE)
Portable Version (25 MB - ZIP)
OS: Win 10 / Win 8 / Win 7 / Vista / XP (64/32 bit) or Latest





Other useful Business and PDF Tools:
PDF Password Remover
PDF Text Replacer
PDF Eraser
PDF Compressor
Batch Excel to PDF Converter