How to Disable Text Copying in a PDF
by PDF Anti-Copy
Have you been wondering how to disable text copying in a PDF? You can do that easily with PDF Anti-Copy. This Windows software is the cream of the crop when it comes to safeguarding PDF files.

In addition to being compatible with all versions of Windows (from XP to Windows 11), the application is very easy to use. It has an intuitive interface that guides you on how to lock PDF files.

It's lightweight too (just 14 MB) and can work on new as well as older and low-end PCs. As if that's not enough, the application allows you to protect the entire document or choose a few pages to protect. That may be necessary if you need someone to be able to copy some pages but not others.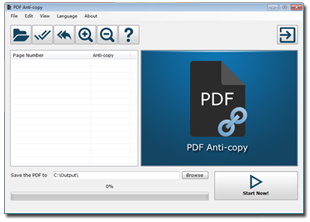 Why Use PDF Anti-Copy to Disable Text Copying in a PDF?

- Anti-Copy

Most PDF lock software will prevent someone from editing your document. PDF Anti-Copy goes one step further to protect PDF from copying. Meaning someone will not be able to edit the file, highlight its text or copy the contents.

- Prevents PDF documents from being converted to other formats

Even better, PDF Anti-Copy doesn't allow readers to convert your files into other formats that can be edited (like Word processor or .txt). That means that someone cannot plagiarize your work.

- Protects PDF from unauthorized printing

One issue that most PDF editors don't address is unauthorized printing of your document. PDF Anti-Copy offers a reliable solution for that. It does not allow the option to print a document. Someone won't be able to print your file no matter the PDF software they use.

- Retains original quality

Even though PDF Anti-Copy will process your document, the final file will look just as good as the original. There's no risk of compromising the quality and integrity of your files when using this PDF editor.

- Easy to use

For starters, PDF Anti-Copy has a user-friendly interface that doesn't require any specialized knowledge to navigate. You won't need to lock the document with a password. That's a good thing because you can allow people to view the document but not plagiarize it.


Using PDF Anti-Copy to Disable Text Copying in a PDF
Step 1. Download the PDF Anti-Copy installer from the homepage and install it.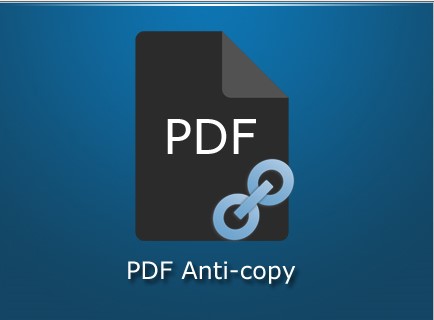 Step 2. Run the software to open its simple-to-use interface.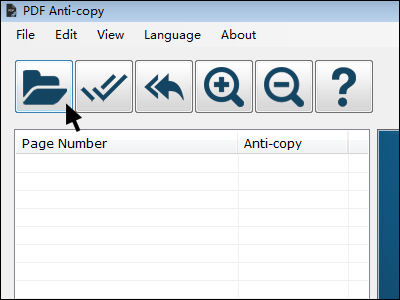 Now click on the folder icon to browse your PC and open the PDF file that you want to secure. You can also your file by going to File>Open and then browsing your PC.


Step 3. Choose the pages to protect.
You can either safeguard the entire document or select a few pages to protect.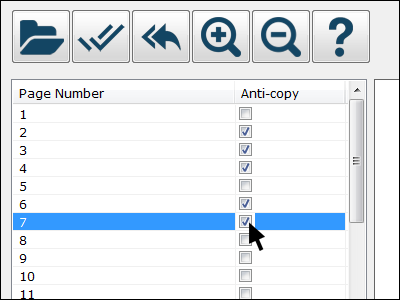 Step 4. Choose the output folder.
Click on the icon labeled "Browse" and then choose a folder on your PC where you want the protected PDF to be stored.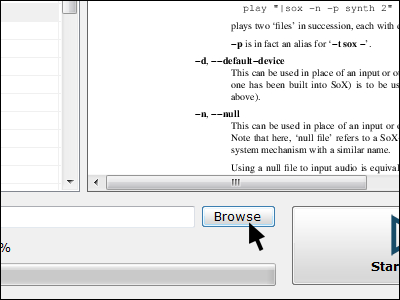 Step 5. Start Protection.
There's a "Start Now" button for initiating the process. Click on it to start protecting your file.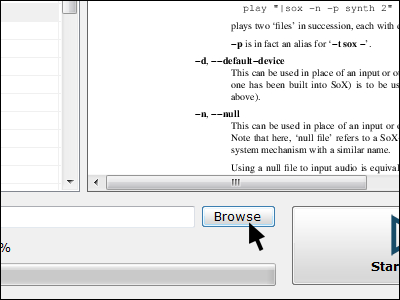 You can track the process using a progress bar that's located at the bottom of the software. It will take just a few moments for your file to be fully protected.


What Happens If Someone Tries to Copy Your PDF Using Another Program?

That's how to disable text copying in a PDF using PDF Anti-Copy. But what if someone tries to convert your document into another format? They simply won't be able to.

PDF Anti-Copy allows people to view the text but they can't edit, copy or print. They cannot convert the document into other popular formats like Word, .txt or Excel. Here's how your document will look after processing and if someone attempts to convert using another program:



Before processing with PDF Anti-Copy



(File is open in PDF Reader and users can select and copy text)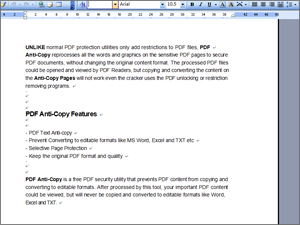 (File can be converted to MS Word and contents copied)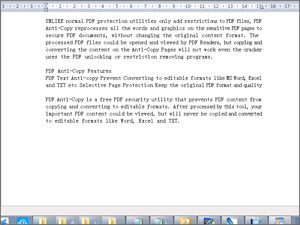 (File can be converted to .txt and contents copied)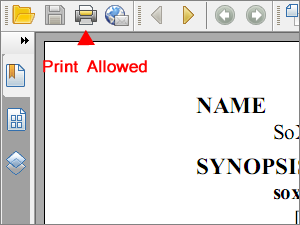 (Print option is active and file can be printed)

After processing with PDF Anti-Copy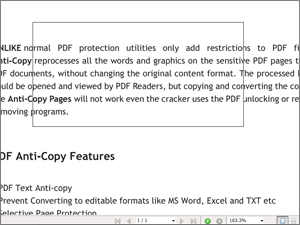 (Text cannot be selected or copied)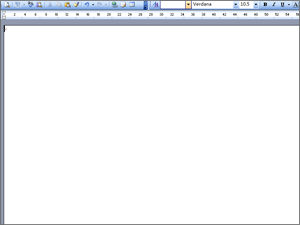 (Shows blank document when someone tries to convert)



(Shows blank document when someone tries to convert)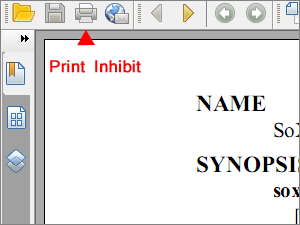 (Print option is disabled and file cannot be printed)





Download PDF Anti-Copy V2 (14 MB - Installer/EXE)
Portable Version (25 MB - ZIP)
OS: Win 10 / Win 8 / Win 7 / Vista / XP (64/32 bit) or Latest





Other useful Business and PDF Tools:
PDF Password Remover
PDF Text Replacer
PDF Eraser
PDF Compressor
Excel Merger